By

 

The Secret Closet • 

20 Feb, 2019 • 0 Comments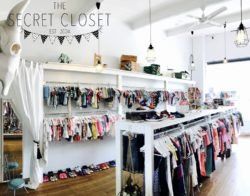 Like many people who grew up in the 1970s and 80s, buying secondhand clothing is ingrained in my life experience. I have always had a diverse wardrobe that reflected both the choice to spend a little more on quality new clothing as well as pay less for a unique spattering of thrift shop gems (these are called Op Shops if you're from Australia – literally short for "Opportunity").
There are so many benefits to shopping for secondhand clothing it's hard to know where to begin. Ethically, it is a surefire way of making a dent both in the wasteful production of fast fashion, and also the huge amount of waste that is generated by discarding new or barely used clothing to landfill.
Fashion production is considered to be the largest polluter in the world. With climate change and its effects on human existence becoming more and more urgent, there really is no excuse to keep ostriching-it (keeping your head in the sand) and only buying new stuff.
Spending less on better quality clothing ensures your wardrobe will last longer for less money. Plus, it's satisfying finding excellent bargains on designer fashion for children if you know where to look.
For someone like me, living on the northern beaches of Sydney, we have a multitude of options for buying cheap utilitarian unoriginal clothing for our kids. If I do buy these more generic basics, I will at least head to one of our local stores that I know sells organic cotton basics.
Otherwise, if I'm looking for something a little more special, or if I'd like to help my toddler or six-year-old begin to develop their own individual style, I'll go secondhand. The reality of this though can sometimes be quite challenging – small aisles that are not pram friendly, loads of low hanging products that Mr 2 loves to grab… it can be quite stressful.
Thankfully I have now found an alternative that allows me to shop in a child-friendly environment for quality branded and used children's clothing.
HOT TIP: If you're on the Northern Beaches of Sydney, try The Secret Closet.
BENEFITS
There are six main benefits of shopping for children's clothing in secondhand stores.
The first and quite important point is that supporting an independent, local and mum-run business (and all the feels that go along with this) creates a thriving local economy and helps keep a community vibrant and thriving.

Giving clothing that is waaaay to good for landfill a second life

Saving money by spending a lot less money on better quality clothes that last longer. (And, bonus round: if you take very good care of them you could even sell them on when you're done.)

NOT contributing to the demand for unethically produced fast fashion.

Meeting local business owners and local mums in a small and community-minded store.

Encouraging children to develop a taste for the unusual and exercise their own style and taste rather then giving them cookie-cutter looks along with a serve of herd mentality.
That sixth point above allows a child to utilise their own mind for critical thinking, making choices based on their own tastes. This experience holds a multitude of easter-eggs for them in future. Knowing your own mind and knowing your own style is very good for self-esteem – how important this is in a world fuelled by social media and pressure on girls to conform to popular culture.
So these are the five surprising benefits of shopping secondhand for your children. What do you think? Will you head out to your local second-hand clothing shop for some clothing?
Alena Turley/ The Soul Mamma is a writer, educator, ethical digital creator and mum of three little darlings based at Freshwater Beach, in Sydney. Come join the party and bumble through this parenting malarkey together with other lovely souls by following Soul Mamma on Instagram
Last Updated on February 19th, 2019